Testimonials
This is what my clients have to say about the Massagemomma experience:
7/21/2011
Hey Sasha!!! I went into labor at 9 last night. You took me from 1cm to 4cm. Thanks so much for your healing hands. God Bless.
-Lynn Kelly, baby girl born
11/17/2010
What Sasha does and her passion for it is truly a gift. She is so hard working and supportive, so calm and intuitive,… just amazing. She labored with me all day on her husbands' birthday. My husband said having Sasha as our doula is the best money he has ever spent.
Sasha is wonderful and I am so grateful she has been there for me during such an important time in my life. It has made all of the difference to me and my family. We had a beautiful birth experience and it truly would not have been the same without her support. In addition, my husband purchased a massage package from her as a XMAS gift and now I want it every year for XMAS.
-Sarah and Adam Dooley
Sasha,
Thank you for all your support during my pregnancy with Chloe. The pre-natal massages were wonderful and really helped with my aches. And I really enjoyed chatting with you during our sessions. You always had some great stories to keep me laughing.
It made my last trimester a breeze. And once Chloe arrived, your post-natal massage helped me feel like my old self and start to look like it too.
I'll see you with the next pregnancy!
-Emma
Sasha definitely has hidden wings and came to my rescue. My husband
and I are truly blessed to have had her, and I wouldn't change a thing about
my experience
.-Mother of newborn son, Mr. MJ Calvert
I went to Sasha in my early second trimester for a prenatal massage, after I read stellar reviews online. I've been to several massages before and wasn't really expecting to feel the effects for more than a few hours. After my massage with Sasha, I left feeling like a million bucks!
Not only was she professional and skilled in her art, she had some really good advice for other pregnancy related stuff that made my experience with her a really enjoyable and memorable one. I highly recommend her services and I'm excited to get my labor prep and postpartum massages from her! It was the best money I had spent on myself in a long time, and my husband was delighted to have such a pleasant tempered pregnant wife for a few weeks ;-)
If you're looking for an excellent way to relax and de-stress during those achy 9 months, Sasha is definitely your girl!
-Aditi Lyengar
Kristine Gussow's Birth Story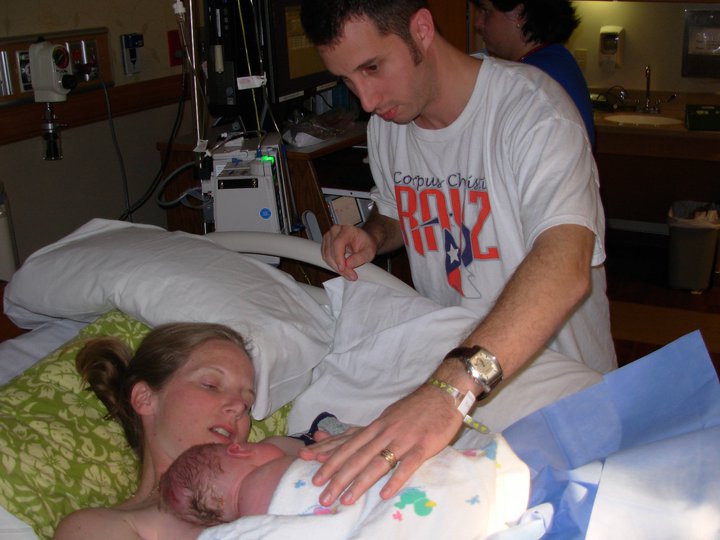 "To doula or not to doula, that is the question…" At least, this was the question my husband Jerome and I asked one another for months. It wasn't until June 2010 that we decided to contact an agency about our interest. We knew a doula could be instrumental in helping us with our second pregnancy, but I had long since taken the stance that I would opt for a v-bac. For this reason alone, we felt we needed as much support as possible during labor. Our doctor, Maryam Baird, wholeheartedly supported this decision and gave us her blessing, strengthening our realization that we made the right decision to begin interviewing prospective doulas.
The interview process ended as abruptly as it began when we were introduced to Sasha Sumling on this sweltering summer day. Our 19-month-old c-section "baby" in tow, we met with Sasha to talk about the pros and cons (there were definitely no cons!) of having a doula. Uncertain about the detailed role a doula would play in our labor and birth, we fired away our naïve questions, and Sasha thoroughly, patiently and calmly explained her role in conjunction with Jerome's role, all the while entertaining our little toddler with crayons, paper for drawing, and cleared away a space for him to play with his "choo choos." Hearing Sasha's recount of her own birthing experience, watching her interact so gently with our son, and being educated in the role of a doula, we walked away from our hour-long consultation with a signed contract. Sasha would be our doula, and soon enough, a very special part of our family as well.
I went into labor at midnight on August 14, 2010, 8 days ahead of my due date. Having a planned c-section in 2008 due to a breech baby, I was as frightened and inexperienced with labor as a first-time mom. I immediately called Sasha, bless her heart, at 12:05 a.m. to tell her we were heading to the hospital. Sasha, kind as she is, said she was on her way. She met us there shortly after we arrived, around 1 a.m. Mind you, Sasha has three little ones herself, yet there was zero hesitation on her part to head to the hospital at such an inconvenient hour. She arrived and immediately told me to relax, and began using her trained massage techniques to get yet-to-be-born baby girl into the proper position.
Doctor after doctor came in to tell me that I was not a good candidate for a v-bac. I was not dilating, not experiencing any major contractions, and was all-in-all a better candidate for a repeat c-section. Completely dismayed, I felt my dream of a natural birth being shattered with each passing hour. Sasha, however, told me not to listen to anybody. She said we would have a natural delivery, and she had every ounce of confidence and reassurance in her voice that I needed.
For 18 hours, Sasha worked tirelessly to help me relax, get baby girl into a birthing position, and waved off the negative comments made by the medical professionals. She coached my husband Jerome, on how he could best help me, and she never once allowed me to think negative thoughts. While Jerome relaxed, chicken burrito in one hand, remote control in the other, his legs propped up comfortably on the labor room sofa, Sasha never once left my side. She worked, effortlessly, keeping my spirits high, encouraging me with each passing contraction…she was my rock for sure!
Brooklyn Jeanne Gussow was finally born on August 14, 2010 at 6:26 p.m. naturally. It was the most incredible experience of my life! Sasha remained with us for about an hour after Brooklyn's birth, and made sure everything was ok before leaving us to bond as a family. She checked in repeatedly over the course of the next several weeks, and we visited her a number of occasions before we finally moved too far away to do so.
Sasha is amazing. That's all we've gotta say!
n Kristine, Jerome, John Jeffrey and Brooklyn Gussow
Book Now
Give me a call to discuss ways I can help you relax and feel more comfortable or help to guide you through the pregnancy process.